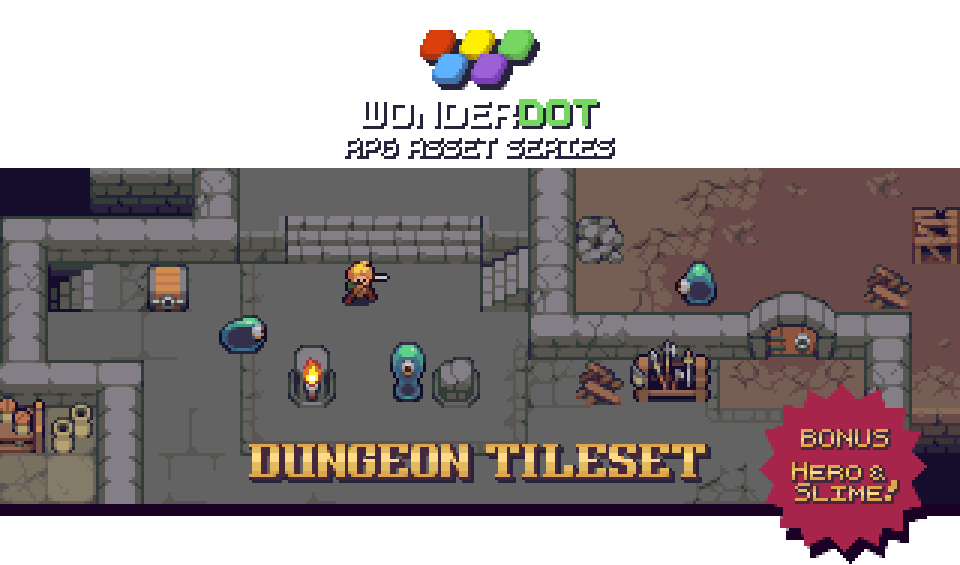 RPG Dungeon Tileset
A downloadable asset pack
Painstakingly crafted pixel graphics full of charm.
Designed specifically to suit SRPGs, but would also suit RPGs, action RPGs, rogue-likes, etc.

Package includes:
Dungeon Tileset
Single tileset, .PNG format. Individual tiles are 16x16 pixels. Tileset includes:
Dungeon floor (+several variants and details, 2 with autotiling capability)
Dungeon walls (covering all configurations, plus damaged wall alternates)
Pit (autotile capability)
Wooden door/Iron bar gate (front/side versions) + archway
Multiple props: shelves, crates, pots, weapon racks, chests, stool, table, chains, throne, rubble, wood pile (+alternate versions for many)
Animated torches & spike traps.
A palette swap of floors and walls for variety.
V1.1
Cave walls
Cave floor extras
Lever
Also included is a detailed guide & .TMX examples.
BONUS Hero & Slime Sprites

A small preview of upcoming character packs. Fully animated basic adventurer and enemy slime. Includes the following for both characters:
Idle animations
Selected/action animations
Walk animations (up, down, side)
Attack animations (up, down, side)
Hit animations (up, down, side)
Licence: GameDev Market pro licence
---
About WONDERDOT:

Hello!
This is the first package in this series. With these assets I want to recreate the magical feeling I had while playing the classic SRPGs of old. If you're interested in hearing about updates/additions to these and other game assets, check out my twitter or tumblr.
Thank you for your support!

-Pita
| | |
| --- | --- |
| Published | Jun 22, 2017 |
| Status | Released |
| Category | Assets |
| Rating | |
| Author | Pita |
| Tags | Fantasy, JRPG, Pixel Art, Roguelike, sprites, Strategy RPG, Tactical RPG, Tilemap based tools, tileset, Top-Down |
Purchase
In order to download this asset pack you must purchase it at or above the minimum price of $10 USD. You will get access to the following files:
rpg-dungeon-pack v1.1(wonderdot).zip
304 kB
Comments
Log in with itch.io to leave a comment.
I really liked your style. I bought these and I am really happy to use your things
Hello, I love this pack very much! Does this liscense allows me to modify some parts of these assets (add new action of charactor, change weapon , change hair color,etc) and then use the modified version on my commercial game?
Yes, the license allows that! Thanks for supporting me by purchasing this pack, it helps a lot. :)
Can i monetize a game with that ? Once i paid 10$ is that ok for me to build a game and earn Money from it without giving you or someone else Money ? I understood that, correct me if im wrong.
Yes, you are correct! The license allows you to use the assets for one project (commercial or non-commercial). I don't take a cut after purchase.
Has Hero Character base sprites for draw?
Sorry? I don't understand your question.
sorry my bad english.
has the hero base sprite? without the clothes, to draw a new hero

Sorry, there isn't a base sprite like that in this pack.
whats size character and tiles? 16x16?
Yes. Tiles are 16x16. The hero and slime are 16x16, but are sometimes larger during animations.
Just bought these... Great work.
Keep it up as I need more for my game! :D

I'll keep you posted on my progress... :o)


Great!
Next pack is getting there slowly, so I'm behind schedule right now. Still, progress is being made & it's coming for sure. :)

Great stuff! Looking forward to it. When I have something up and running I'll send you a build, it would be good to hear your thoughts. :)
It's quite a bit of work (understatement!) , but Is there any chance of having a version of the the characters with separated weapons and shadows?
The weapons could be an overlay / underlay, and it would be great to be able to swap out swords etc... you know the score... :)
Cheers!


You're not the first to request interchangeable weapons, so I'm going to consider it later down the line. Right now my focus is just to get a lot of characters & more tilesets done! Separated shadows is much easier, so that's more likely to happen.
Since I can't promise if or when I'll be able to support these features, I'd recommend trying to make these changes yourself, sorry. >_<
I plan on purchasing this pack in the near future. It looks great. I'm wondering do you have levers in the pack?
It doesn't at the moment! I'll add some in the next update.
me too, it would be great if you also make monster pack
Monster pack is coming next ᵔᴥᵔ
I'm hyped and I haven't even purchased it yet (darned payday!) The art style is amazing! After the monster pack, what's the next course of action? (I guess I'm asking for a roadmap though I'm being a little too over eager!)
Thank you! It really helps a lot to hear that. :)
I just made a devlog answering that question: https://pita.itch.io/rpg-dunge...
It also has a tiny preview of two of the new additions that will be in the next pack. :>